"

Our art is meant to challenge perspective, inspire growth, and encourage connection. It's about the journey and the experience, not the destination."
— TD and Veronica Benton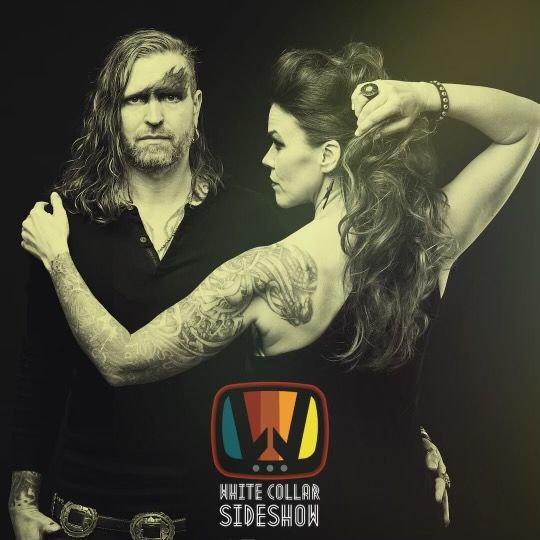 Virtual Tip Jar
Thank you for your love and support. All donations are tax deductible!!
Enter the amount you wish to donate
White Collar Sideshow uses music and film to to bring people together. Performing is our bridge, our voice, to connect with each other. Whether you meet TD & Veronica face to face or you catch a show, the hope is you'll walk away inspired, challenged, encouraged and mostly loved. The bottom line is "people" and the ultimate mission is to love and serve. WCS builds and supports relationships within the community, encourages others to give up destructive or addictive lifestyles and shares about how God has been the glue to their unconventional journey. The latest project is titled, I Didn't Come Here to Die, their third studio album. The original film that plays onstage is a black and white nod to The Twilight Zone and is focused on "Identity." WCS has never required contracts or guarantees for their performances. For over 13 years, they have lived on the generosity, love and donations from amazing people just like you.

WE NEED YOUR HELP!
~ALTHOUGH WCS IS ON THE ROAD FULL TIME, WE LOVE BECOMING AN EXTENSION OF YOUR LIFE. WE ARE SUPPORTED BY THE PEOPLE WHO BELIEVE IN WHAT WE DO AS A MISSION, USING MUSIC AND FILM TO REACH OUT TO OTHERS IN A UNIQUE AND ORIGINAL WAY.
~IF YOU WOULD LIKE TO SUPPORT US PRAYERFULLY, THANK YOU VERY KINDLY, WE APPRECIATE THE PRAYER, AND WE NEED IT!
~FINANCIALLY, WE LIVE ON LOVE, GENEROSITY AND DONATIONS. IF YOU WOULD LIKE TO SUPPORT US FINANCIALLY, YOU CAN GIVE DIRECTLY TO YOUR PAYPAL: BOOKING@WHITECOLLARSIDESHOW.COM, SEND A CHECK/GIFT CARD TO OUR PO BOX 10866, FORT SMITH, AR 72917 OR DEPOSIT DIRECTLY FROM YOUR BANK. PLEASE EMAIL ME FOR DETAILS. ALL DONATIONS ARE TAX DEDUCTIBLE AND WCS IS A 501(C)3 NON PROFIT ORG.
WE HAVE BEEN SO BLESSED TO BRING OUR UNIQUE PERFORMANCE TO THE US AS WELL AS MANY DIFFERENT COUNTRIES. IT'S BEEN AN UNBELIEVABLE EXPERIENCE! MANY RELATIONSHIPS HAVE BEEN MADE AND LIVES TRANSFORMED. HONESTLY, WE WOULDN'T BE HERE IF IT WASN'T FOR GOD CHANGING OUR LIVES, AND HTE CONNECTION WITH OTHERS FROM ALL AROUND THE WORLD WHO HAVE COME ALONGSIDE US ON THIS JOURNEY. 
THANK YOU FOR SUPPORTING, BELIEVING IN AND LOVING US...
T&V
---
---
Finally, if you would like to mail a check or gift card, feel free to send it to:

White Collar Sideshow
PO Box 10866 
Ft. Smith, AR 72917

Thank you for your support and for keeping ART ALIVE!